2021 Gifts for the bookplate tragic
,
In case you couldn't get more into bookplates, have a look at these wearable accessories and merchandise ...
"This lightly lined notebook features sixty full color vintage bookplates. Perfectly sized to toss in your bag for book group or to take to your favorite cafe, this journal is as appealing to the lover of ephemera and graphic design as it is to the lit lover. Bookplates featured include those of luminaries such as Albert Einstein, Sigmund Freud, Greta Garbo, Bing Crosby, Harry Houdini, Jacqueline Onassis, and Edith Wharton. A tipped-on bookplate on a cloth cover and a ribbon marker complete this bibliophile's dream notebook." 
I actually own this journal and love the clothbound cover. It's interspersed with bookplate art collected by self-confessed 'bookplate junkie' Lewis Jaffe. It's a good size and sits on my bedside table for 3am musings.
"Wear your favorite story or phrase around your neck with our literary necklaces. Ex Libris, meaning "From the library of..." An Out of Print adaptation inspired by the bookplates that could be found on the inside front covers of books. Solid brass with 14 kt gold plating, lead-free, adjustable 18-inch chain with 3-inch extender."
Not gonna lie, this was really tempting to purchase. It even has the banderole scrolls!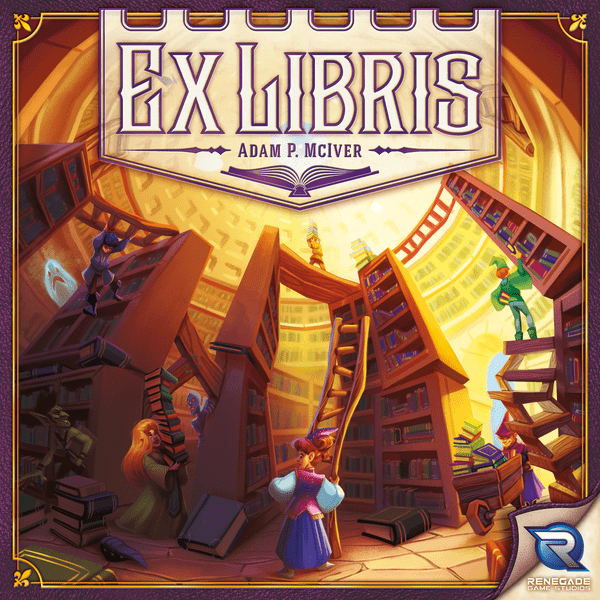 "In Ex Libris, you are a collector of rare and valuable books in a thriving gnomish village. Recently, the Mayor and Village Council have announced an opening for a Grand Librarian: a prestigious (and lucrative) position they intend to award to the most qualified villager! Unfortunately, several of your book collector colleagues (more like acquaintances, really) are also candidates. 
 To outshine your competition, you need to expand your personal library by sending your trusty assistants out into the village to find the most impressive tomes. Sources for the finest books are scarce, so you need to beat your opponents to them when they pop up. You have only a week before the Mayor's Official Inspector comes to judge your library, so be sure your assistants have all your books shelved! The Inspector is a tough cookie and will use her Official Checklist to grade your library on several criteria including shelf stability, alphabetical order, and variety — and don't think she'll turn a blind eye to books the Council has banned! You need shrewd planning and cunning tactics (and perhaps a little magic) to surpass your opponents and become Grand Librarian!"
The art looks pretty fantastic, definitely one for board game night!
"Calling all literary heroes! The world of literature has broken free and has merged with reality… and you, unfortunate soul that you are, have been sucked into one of these portals. Dive into your favourite books to puzzle your way back to reality. And if you have time, take on additional challenges to seal the portals! With two additional objectives to complete after the main escape, this is a perfect room for all skill levels. New to the world of escape rooms? Aim to escape! More experienced, or with a larger team? Up the challenge and see if you can complete both objectives in time! We have two copies of this room, so you can race your friends and teammates! Up to 16 players total (with current COVID restrictions)."
While this isn't strictly a gift I thought I'd add it because it looks like a fun experience! I've had friends do this and have recommended it.
The above links aren't sponsored, they're just things I've found on my bookplate adventures. 
☛ info@fleurandfable.com.au