Altering a bookplate design for custom jobs
,
Occasionally I'll get requests from companies to make changes to an existing design, and then have it custom printed. My Tangled Vines bookplate sticker design has been particularly popular having been printed for a USA-based study center and an Australian-based book subscription box! 
1. Ex libris 'dance card' bookplate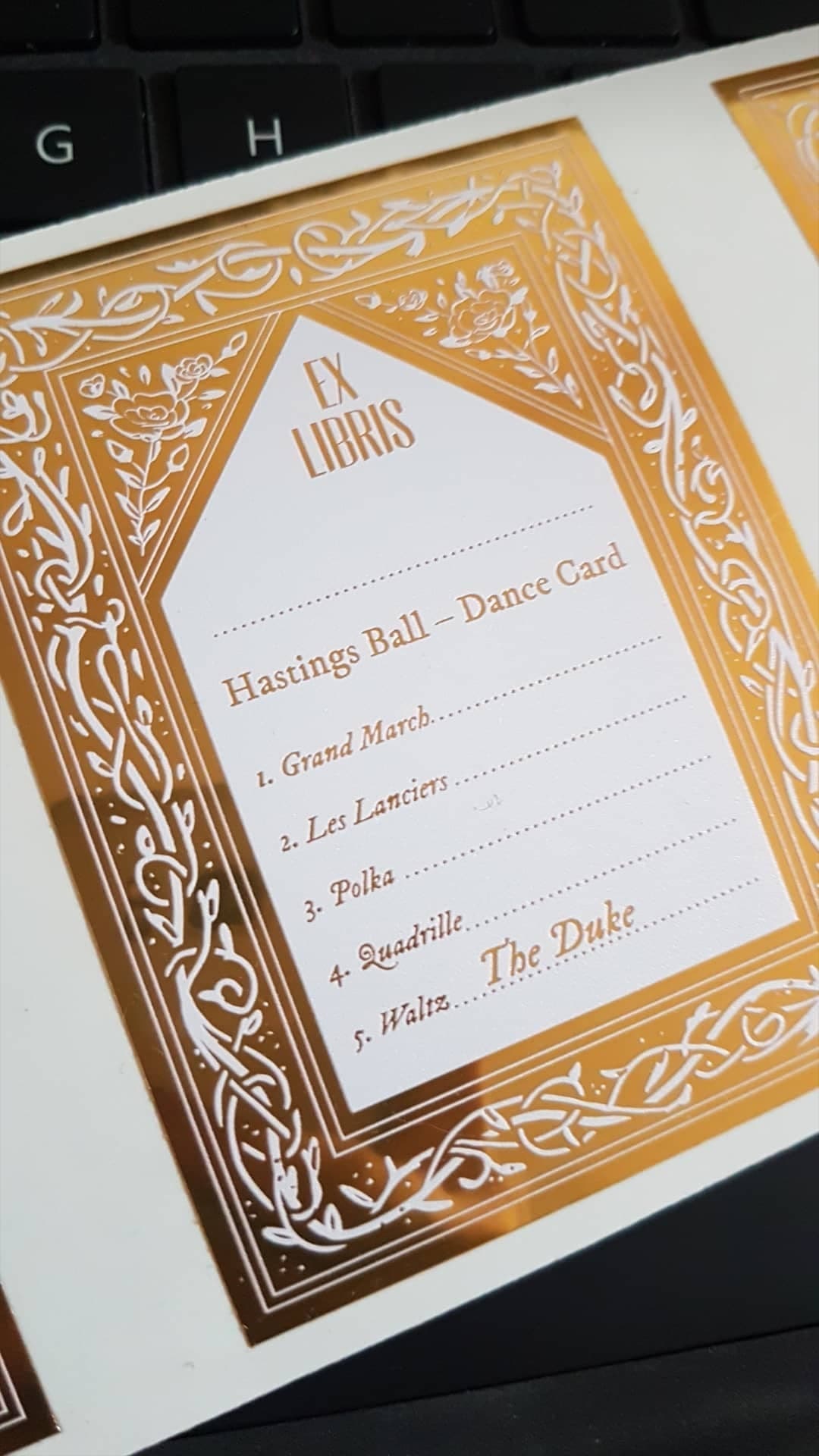 Grace from Belle's Books and Candles originally contacted me through Instagram looking to offer an add-on product to her book subscription box. For this particular month, the box's theme was based off the tv series "Bridgerton" and so she wanted a bookplate that would look like an old school Dance Card from a ball. I thought this was such a fun idea, combining two concepts! After a bit of back and forth we came to this final design with the Duke 'signing' his name for the last dance. Printing-wise I gave Grace two options, matte self-adhesive paper or a gold foiled self-adhesive version! Given that the book subscription box was relatively new, Grace only needed 20 copies (1 copy per box), but that small quantity was still possible with custom gold foil printing. And I'm so glad she picked the gold foiling because look at how fantastic it came out! Within 7 days I had it printed and shipped to Grace. 
2. 'In honour' donated bookplate
Kathy got in touch with me through Etsy about altering my Tangled Vines design to create an 'In honour of' bookplate which would be donated to The North Carolina Study Centre. This was actually the first time I've had an overseas enquiry for altering a design! More amazingly it was being donated in honour of Kenneth Robert Samuelson's 90th birthday. I removed all the original Ex Libris wording and dotted lines for the new text. There was quite a bit of text to fit into the small space so I knew I wanted a clean typographic layout using a combination of roman, italics and small caps. I wanted the emphasis to be on the Study Centre and Kenneth's name. Kathy also wanted 20 bookplates printed but this was done with matte sticker paper. Given the covid situation, with flights being cancelled worldwide, I was still pretty surprised to find that it had arrived within 3 weeks of sending!
 Get in touch if you'd like to edit an existing design today!
☛ info@fleurandfable.com.au